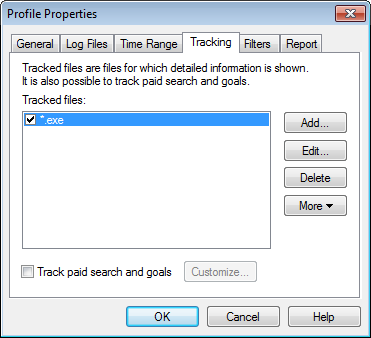 Tracked files
Tracked files are files for which detailed information is shown in the Tracked Files report category.
When you enter the full file name you can enter it with or without slash at the beginning. E.g. http://www.domain.com/page.htm can be entered as /page.htm or as page.htm
Tracked file names are case sensitive. If you analyze log files with case-insensitive file names (e.g. IIS logs), you can enable the Convert file names to lower case when analyzing IIS logs setting in Options > Analysis > General or set the Case of file names option in Profile Properties > General > Custom analysis settings > Files to "Convert to lower case".
Paid search and goals
You can specify paid search settings and conversion goals.