WebLog Expert is a fast and powerful access log analyzer. It will give you information about your site's visitors: activity statistics, accessed files, paths through the site, information about referring pages, search engines, browsers, operating systems, and more. The program produces easy-to-read reports that include both text information (tables) and charts. View the WebLog Expert sample report to get the general idea of the variety of information about your site's usage it can provide.
The log analyzer can create reports in HTML, PDF and CSV formats. It also includes a web server that supports dynamic HTML reports.
WebLog Expert can analyze logs of Apache, IIS and Nginx web servers. It can even read GZ and ZIP compressed log files so you won't need to unpack them manually.
The program features intuitive interface. Built-in wizards will help you quickly and easily create a profile for your site and analyze it.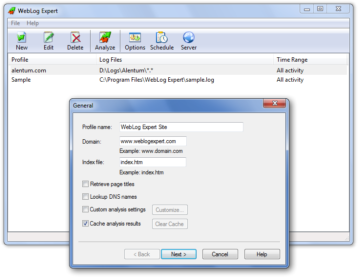 You can view the complete list of features here. You can also download free fully functional 30-day trial version of WebLog Expert Std/Pro/Ent.
News

4/12/2023 - WebLog Expert 9.53
| | |
| --- | --- |
| | |
| | Improved recognition of operating systems |
| | |
| | Recognition of new spiders |
7/16/2021 - WebLog Expert 9.52
| | |
| --- | --- |
| | |
| | Recognition of new spiders |
12/15/2019 - WebLog Expert 9.51
| | |
| --- | --- |
| | |
| | Recognition of Chromium-based versions of Microsoft Edge |
| | |
| | Recognition of new spiders |
| | |
| | Minor improvements |
9/24/2018 - WebLog Expert 9.5
| | |
| --- | --- |
| | |
| | Minor improvements |